When you're on the hunt for a venue, it's easy to fall in love at first sight. But forgetting to ask an important question could possibly lead to an expensive surprise down the track. 
You need to ask the right questions to make sure you have a full understanding of what you're paying for. Say "I Do" at the most spectacular wedding venue in South Wales.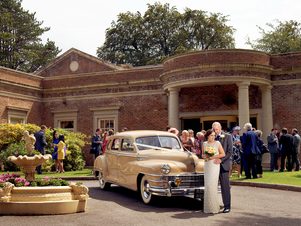 Reception
Are plates/silverware/glassware provided or will we have to rent them?

Are tables, linens, and chairs provided or will I have to rent them? If so, what type of tables do you have? Are there other options?

What type of seating arrangements we can have?

Can I move things around, or do I have to leave everything as is?

Are there any decoration guidelines or restrictions? Can we use candles? Can we throw confetti?

Are there any decorations or stationery provided (flowers, cake stand, centerpieces, red carpet, etc)? Are there any options to choose from?

Do you have signage to direct guests to the wedding?
Food & beverages
Is there a minimum spend? Are there any penalties for not meeting the minimum?

Is there an in-house caterer? If so, can we do a tasting? How many people can attend?

What is included in the packages?

Can you accommodate special dietary requirements?

Do we have to use that caterer? If not, are there any limitations on which outside caterers we can use?

If I hire my own caterer, will they be able to access kitchen facilities?

What are the beverage choices? Are there any upgrade costs?

Are we allowed to bring our own alcohol? If yes, do you charge a corkage fee?

Are there any additional charges for bar/waiting staff?

Can I bring in a cake from an outside baker? Is there a cake-cutting fee?